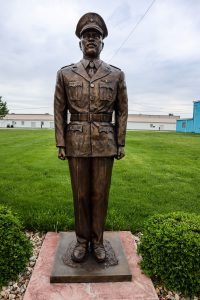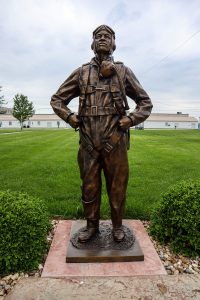 These Tuskegee Airmen statues were dedicated in October 2022, and originated as an Eagle Scout project by Timothy Molinari. His father, Tim, helped fundraise and coordinate the installation of the statues. There was a weeklong celebration prior to the unveiling.
The statue dress in flight gear represents the Tuskegee Airmen's defense of our country while the one in an officer's uniform represents their honorable service to the nation.
These were installed and dedicated in October. An Indiana state historical marker also was installed outside the museum. Those who are interested in learning more about the time the Tuskegee airmen trained in Seymour and about the significance of the Freeman Field Mutiny can either visit the museum from 10 a.m. to 2 p.m. on Saturdays or schedule an appointment by calling 812-271-1821.