Brooklyn Pizza Co. and Seymour Brewing Co. – Local Restaurant History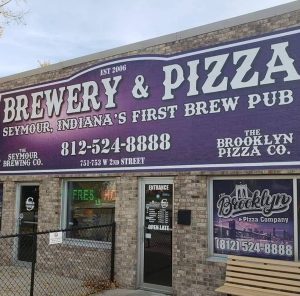 Almost 14 years into the pizza business, Shawn Malone still loves the food that pushed him to start the Brooklyn Pizza Company.
"Jen (his wife) and I eat pizza at least twice a week," he laughed.
Malone started the Seymour pizza shop on April 1, 2006, and changed locations in 2010.
Since then, the business has added a green space live music park called Harmony Park and brewery, the Seymour Brewing Company. People enjoy food and pints of beer all the time at the restaurant.
Each weekend during the warmer months, live music is offered at Harmony Park, while musicians play pubside in the cooler months.
They've even had weddings at Harmony Park, including their own. The park has also been used for many fundraisers.
Since starting the brewery, people have been very interested in their offerings as they always have something new on tap.
"The Seymour Brewing Company was started in 2017 and it is still growing," he said.
Since the brewery started, customers also have shown a thirst for their flagship brew, Reno Gold.
"It's always one of our five taps," Malone said, adding all of those beers are available for carryout or delivery in growlers (64 oz) and howlers (32 oz.).
Since the Brooklyn Pizza started, they've earned a respectable reputation for their delicious pizzas and fresh baked bread sticks.
But this is not just a place that offers pizza, as Malone said that regular customers continue to order their bone-in chicken wings, Italian sandwich and other sandwiches.
"The Italian sandwich is still a favorite of mine," he said.
Customers are not limited to just traditional pizza as Malone has offered up a gluten free, cauliflower-crust pizza with veggie toppings.
Malone said that he and Jennifer enjoy seeing family and friends gather around for a pizza and pint while enjoying their experience at the restaurant.
There's also another group that makes the place special: The employees.
"I truly enjoy our employees who are like brothers and sister to me," he said. "I'm a lucky guy."
Visit the Brooklyn Pizza Company Facebook page by clicking here.
–
The Jackson County Visitor Center is writing small feature stories about local restaurants during this time so that customers will know who they are supporting when they order food or purchase a gift card from them in this trying time. 
If you're a business owner, click right here to fill out the form to be featured.