20 Things To Do in Jackson County This Holiday Season
We've made the fun that comes with the Most Wonderful Time of the Year easier to plan by creating a list of 20 Things To Do This Holiday Season in Jackson County! This list is packed with new events, and some of your favorite holiday traditions! Let's get to it!
1. Craft and Vendor Shows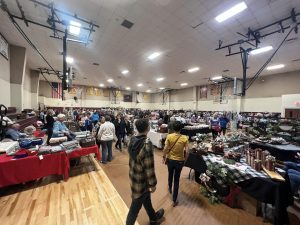 Jackson County offers up a ton of craft and vendor shows during the holiday season! It's the perfect way to get your group together and find a perfect gift for someone or maybe some new decorations for the season. Click here for a full list of all the craft and vendor shows!
2. Medora Christmas Festival
The Medora Christmas Festival and Parade is a great Jackson County holiday tradition! The festival is from 9 a.m. to 4 p.m. December 2. In its 51st year, the festival will offer up some great shopping vendors, food, entertainment, and of course, the parade! We're sure this will get you in the spirit of the season!
3. Christmas Workshops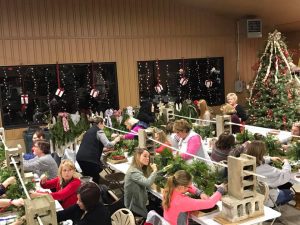 Make your own centerpiece, wreath, small tree, and whatever else you can think of with Christmas workshops in Jackson County! Jubilee Flowers & Gifts and Schneider Nursery offer workshops this season and you don't want to miss out! Click here for Jubilee's listings | Click here for Schneider's listings
SICA also will host a Christmas Wreath Workshop from 3 p.m. to 5 p.m. December 2, 2001 North Ewing Street, Seymour. It's $45 for members, and $55 for guests. Drinks and snacks provided.
4. Christmas at Crossroads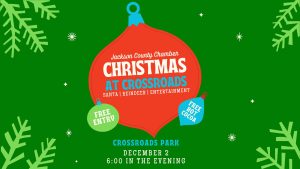 This has grown into a wonderful Seymour tradition, Christmas at Crossroads! It's scheduled for 6 p.m. December 2, at Crossroads Community Park in downtown Seymour. Santa will be welcomed to town and the community will light the City Christmas Tree. The event also includes music, dancing, live reindeer, hot cocoa and more! Click here for the Facebook event page.
5. Hamacher Hall Christmas Event
Join Hamacher Hall in Crothersville for a Christmas Event from 9 a.m. to 8 p.m. December 2! There will be a biscuits and gravy breakfast from 9 a.m. to noon, craft show from 9 a.m. to 5 p.m., cookies with Santa Claus at 6 p.m., crafts, auction at 7 p.m., and so much more! All of the fun will be at 211 East Howard Street, Crothersville.
6. Brownstown Hometown Christmas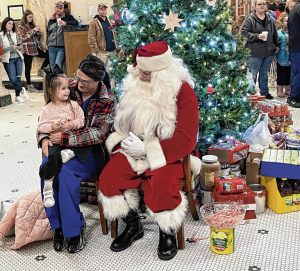 Brownstown Ewing Main Street will host the annual Brownstown Hometown Christmas from 6 p.m. to 7:30 p.m. December 7, at the Jackson County Courthouse in Brownstown. The event will feature a visit from Santa Claus, treats, the Brownstown Central High School choir, and more, all in the historic Jackson County Courthouse.
7. Savor seasonal flavors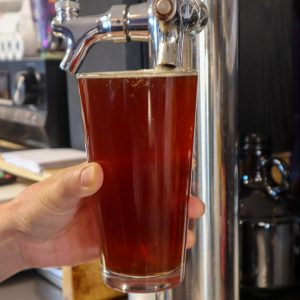 Indulge in the flavors of the season in Jackson County with a trip to a winery, brewery, or coffee shop! Jackson County has wine experiences at Chateau de Pique and Salt Creek Winery, while you can explore some Fall beer offerings at Seymour Brewing Company with its rotating taps. Plus, the brewery offers its Mug Club memberships in December if they have slots available. Coffee shops in Jackson County offer up some create holiday-themed drinks and treats, which can be found at The Coffee Company, Kay's Kafe, Moxie Coffee Company (Fall drink pictured), and 1852 Cafe!
8. Cookie Walks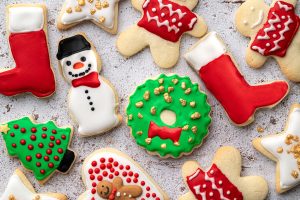 It would be hard to celebration the season without cookies! There are two in Jackson County! Details about the Brownstown Tri Kappa will be shared once they're complete.
The Immanuel Guild – 9 a.m. December 2, at Immanuel Lutheran Church's Fellowship Hall, 605 South Walnut Street, Seymour. For $15 a box, participants can walk through and fill the box with an assortment of homemade cookies.
Brownstown First Baptist Church – 10 a.m. to noon, December 9, at the church, 1095 South State Road 135, Brownstown. It's $6 per pound for cookies, and will be cash only. The event also includes a craft bazaar.
9. Shopping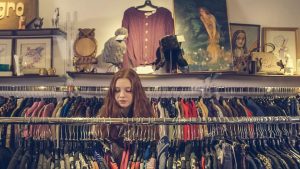 Everyone has a list of gifts to get, so why not support local shops, boutiques, hardware stores, retails shops, and more! Stop by your favorite local shop and help make this year a success!
10. Christmas at the Campground
Starve Hollow State Recreation Area will host the second Christmas at the Campground from 5 p.m. to 9 p.m. December 9, at the Vallonia property. Campsites will be decorated with Christmas lights and decorations, and families can drive through the campground to view them during the event. There's a suggested $5 donation to help fund the event in the future. The event also will include a craft, hot chocolate, and a visit from Santa Claus. Information: 812-358-3464.
11. Christmas on Chestnut
Seymour Main Street will host the first-ever Christmas on Chestnut from 1 p.m. to 4 p.m. December 9, in downtown Seymour! The event is a children's sip n' stroll with various locations downtown. The activities include story time, ornament decorating, a cookie and hot chocolate pit stop, pictures with Sammy the Saver and Santa, and more! Click here for the Facebook event page where they will soon have a link for tickets.
12. Extend a helping hand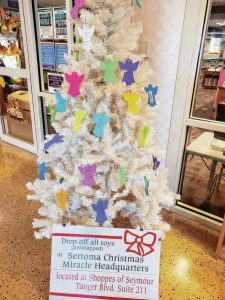 The season also calls for giving back to the community, and luckily there are plenty of opportunities to do so! One is the Jackson County Sertoma Christmas Miracle, which provides presents to children in need at Christmas. The headquarters for the effort is Suite 211 at the Shoppes of Seymour. Call 812-580-9851 for information or click here. The other way to help is by providing meals on Christmas Day. This is organized by several businesses including Bubba's Place and the Brooklyn Pizza Company. Call 812-524-8888 to see how you can get involved.
13. Santa Claus
How could we have the season of Christmas without Santa Claus? There are plenty of opportunities to catch St. Nick in Jackson County, so be sure to check back and see! If your business or organization will be hosting Santa Claus, let us know by emailing jordan@jacksoncountyin.com and we will add it!
14. Parade of Lights & Fireworks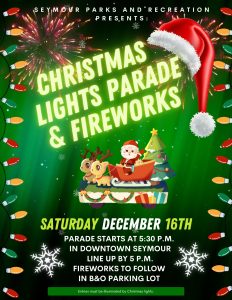 The Seymour Parks & Recreation Department will host the Parade of Lights & Fireworks at 5:30 p.m. December 16 in downtown Seymour. The parade will being at 5:30 p.m. and then fireworks will follow in the B&O Parking Lot in downtown Seymour. It's free to be in the parade, but you must register. Register by clicking here.
15. Old Fashioned Christmas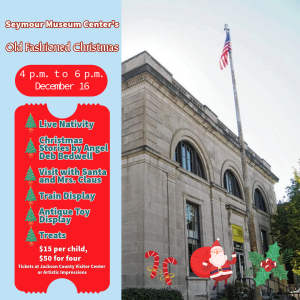 The Seymour Museum Center will host its first-ever Old Fashioned Christmas from 4 p.m. to 6 p.m. December 16, at the museum. The event will include a Live Nativity, Christmas Stories by Angel Deb Bedwell, a visit with Santa and Mrs. Claus, a train display, an antique toy display, treats, and more. Tickets are $15 per child or $50 for four. Tickets are available at the museum during regular hours (11 a.m. to 2 p.m. Saturdays), at the Jackson County Visitor Center, or Artistic Impressions.
16. Festival of Trees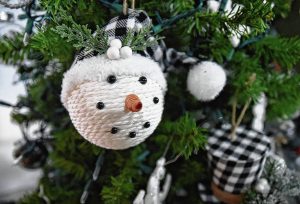 The Jackson County History Center in Brownstown will host its annual Festival of Trees in December at the center's livery barn, 105 North Sugar Street, Brownstown. Those who wish to display trees can put one up and decorate. This year's theme is gnomes and elves. Then the public can walk through and see all the trees decorated together beginning December 1, and vote for their favorite. Also, don't miss the Christmas at the Stable, which is at 6 p.m. December 12, and will feature music and more. Information: 812-358-2118.
17. Christmas Lights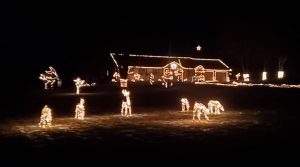 A lot of people in Jackson County hang Christmas lights on their homes! Take time to slow down and drive around as a family to take in the lights! There's no formal tour or designated spots, but it won't take you long to find the neighborhoods that do it right!
18. Local concerts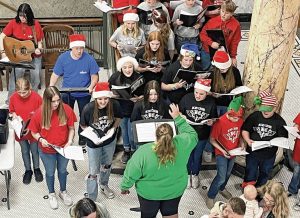 Local schools will offer up some great choir and band concerts, and local churches will host cantatas. Here's what we have so far and we will add more as they come in.
Brownstown Central High School Band Concert: 7 p.m. 12/12, at the school.
Seymour High School's Winter Spectacular Concert : 7 p.m. 12/14, at the school.
Brownstown Central High School Choir Concert: 7 p.m. 12/14, at the school.
19. A visit to a Christmas Tree Farm
Jackson County is home to two great Christmas Tree Farms! So pack up the family and make it a tradition Christmas memory with a trip to Robert's Tree Farm or Wynn's Tree Farm. Click on each name to go straight to their websites.
20. Live theatre shows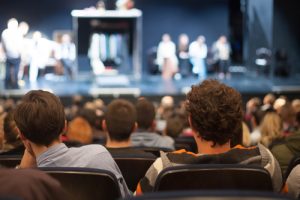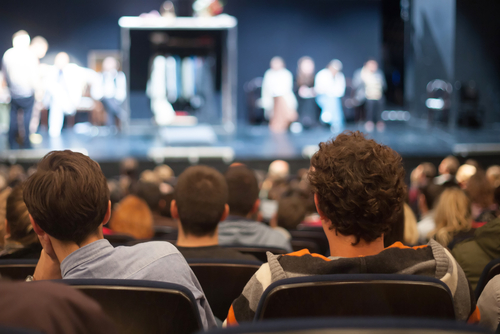 Jackson County Community Theatre will present 'The Game's Afoot' with shows at 7:30 p.m. December 1, 2, 8, 9, and at 2:30 p.m. December 3, at the theater in Brownstown. Catching a live performance during the season is a great way to take in some entertainment with friends and family. Click here for tickets.