5 Spooky Things to do in Jackson County during October
October is a spooky time of the year! Things will be leading up to Halloween, and we want to share 5 spooky things you can do in Jackson County during the month of October.
Haunted houses, haunted trails, spooky stories, movies and more – we've got a little bit of it all. Let's get to it, here's 5 Spooky Things to Do in October!
1. Fear Fair  
How could we even make this list without including Fear Fair – Indiana Scariest Haunted House? Now in its 21st season, Fear Fair will be offering up some of the most frightening haunts in the entire country. It runs from 8 p.m. to 1 a.m. Fridays and Saturdays in October, and there are special hours from 8 p.m. to 10 p.m. Sundays October 24 and 31. Consistently ranked among the best haunted attractions in the state and country, Fear Fair will get you in the Halloween spirit quickly so don't wait to attend one of the best haunted houses you'll find!
Order Tickets to Fear Fair 
2. Tiemeyer's Farm Market
Things will be spooky out at Tiemeyer's Farm Market in Vallonia during the month of October. The Tiemeyer's Timber Terrors hay wagon ride at night on the weekends will terrify you and your friends. We've been told this is the scariest year yet! There also is a scary corn maze on site, and there are movie nights on Friday and Saturday nights at dusk. The movies are free and those who wish to watch can bring their own blankets and chairs. The corn maze is $10 while the trail is $15 and each begin at dusk. Don't forget that Tiemeyer's Farm Market offers up a delicious menu, so you can eat before all the fun starts!
3. Starve Hollow State Recreation Area Events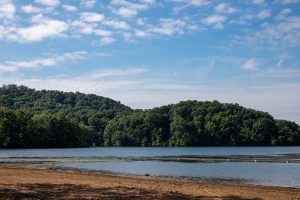 October is a spooky month out at Starve Hollow State Recreation Area. The camp ground will host its annual Hollow'een Spooktacular on Saturday, October 23 and Saturday, October 30. The event is from 10 a.m. to 10:30 p.m. and the schedule includes all kind of fun like a pumpkin decorating contest, tie dye making, trick or treating, costume contest, campsite decorating and haunted trail! In addition to the Hollow'een Spooktacular, there is a Zombie Hunt, which is self guided, from October 17 to October 31. Stop by the main gate and purchase a zombie hunting license for $5, then go hunt for the 10 zombies on the ground. Find all 10 and you can win a souvenir cup or koozie. There is a $7 gate fee to enter Starve Hollow.

4. Seymour Main Street events
Seymour Main Street has a lot of fun, spooky events planned this October. First, Ghouls and Goblets is set for 6 to 9 p.m. Friday, October 8 in downtown Seymour. The evening will include spooky stories and delicious samples of adult beverages at downtown businesses. Check in is available from 5:30 to 7 p.m .at 121 North Chestnut Street (bottom floor of Smith Law Services.) Tickets are $10 in advance and $15 at the door. Order tickets to Ghouls and GobletsSeymour Main Street is also planning its Scarecrow Stroll beginning October 4 and running through the end of the month. Check out all the scarecrows outside at downtown businesses and vote for your favorite. The month will be capped off with the Downtown Trick or Treat. Bring the kids to get candy at downtown businesses!
5. Magic of Books Bookstore "Encounters with Ghosts"
The Magic of Books Bookstore will host "Encounters with Ghost" where a local paranormal investigative team will share experiences, do tarot card readings, have a display of equipment, share haunted locations in Indiana and more. The event is limited to 15 people and requires a ticket. Click here for tickets.