10 Ways to Celebrate Fall in Jackson County
Get ready to embrace the crisp air and vibrant hues of autumn in Jackson County, Indiana! A world of fall fun awaits you and the family! From pumpkin patches and scenic drives to cozy cafes serving up seasonal delights, we've curated the ultimate list of activities that will make your fall experience in Jackson County nothing short of spectacular. So grab your flannel shirts and scarves, and let's dive into 10 Ways to Celebrate Fall in Jackson County!
1. Festivals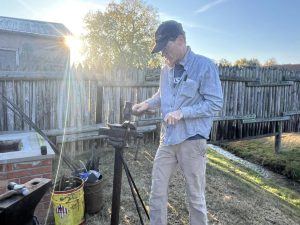 Fall is a great time to attend a festival in Jackson County! There are five festivals in the month of September and October! The 50th Seymour Oktoberfest: October 5-7, Hope Medora Goes Pink: October 14, Houston Fall Festival: October 14, Log Cabin Day at Muscatatuck National Wildlife Refuge: October 14, and Fort Vallonia Days: October 21 & 22 (Click here for Fort Vallonia Days Guide).
2. Fall Shopping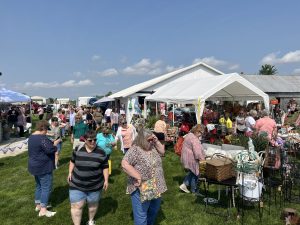 You can get new home décor, outfits, gifts, and plenty more with all the opportunities for Fall shopping in Jackson County. Country Neighbors: September 8 & 9, Hen & Chicks Barn Market September 29 & 30, and Pink Wagon Market: November 3 & 4.
3. Ghouls & Goblets
It's a great Fall tradition that is sure to get you in the spirit of the season! Seymour Main Street's sixth annual Ghouls & Goblets will be from 6 to 9 p.m. Friday, October 13, in downtown Seymour. There are 10+ breweries, wineries, and distilleries pouring samples of product and selling drinks/bottles while four locations will have spooky-themed stories! Don't miss this popular Seymour event! Click here for tickets.
4. Savor Fall Flavors
Indulge in the flavors of Fall in Jackson County with a trip to a winery, brewery, or coffee shop! Jackson County has wine experiences at Chateau de Pique and Salt Creek Winery, while you can explore some Fall beer offerings at Seymour Brewing Company with its rotating taps. Coffee shops in Jackson County offer up some create holiday-themed drinks and treats, which can be found at The Coffee Company, Kay's Kafe, Moxie Coffee Company (Fall drink pictured), and 1852 Cafe!
5. Stuckwisch Pumpkin Patch U Pick Weekend
You can't have Fall without pumpkins and family fun! The Stuckwisch Pumpkin Patch U-Pick Weekend is the perfect Fall event! It's from 11 a.m. to 5 p.m. October 14 & 15, at the patch, 1416 North State Road 11, Seymour. It's only $5 for a family pass and there will be a food truck and an ice cream truck available.
6. Scenic Fall Drive for Foliage
Jackson County is a great place to take in Fall's colors! Drive throughout the countryside to take in the view of leaves, harvest, nature, and the scenes of the season! Here's some ideas: Skyline Drive (Scenic Loop pictured above by Joseph Persinger), Jackson-Washington State Forest, Starve Hollow State Recreation Area, Muscatatuck National Wildlife Refuge, State Road 135, and here's a hidden gem: County Road 275S in Medora looped to 225S, 940W, out to Pike Hill Road. Our friends at the Purdue Extension Jackson County tell us that the peak time in Jackson County usually begins in mid-to-late October depending on the weather.
7. Landmark visits for photos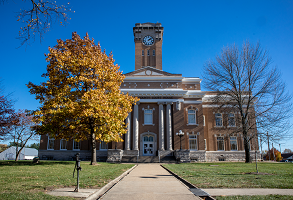 Fall's beauty and sunshine make for great photos of landmarks in Jackson County, plus it's a great time to revisit our landmarks like the John Mellencamp Mural, Fort Vallonia, murals in downtown Seymour, the Southern Indiana Freight House (Our building), Jackson County Courthouse, local churches, and more. Or maybe even a visit to the Reno Gang's grave might be a spooky landmark to visit! Snap a photo of your visits and send it to us on Facebook or info@jacksoncountyin.com!
8. Farmers Market visits
Jackson County is full of farmers markets ready to serve up your favorites for Fall! Find pumpkins, mums, food, home décor, outdoor movie nights, and more! Stop in at Hackman Family Farm Market, Stuckwish Farm Market, and Tiemeyer's Farm Market in Vallonia for fun! Also, the Seymour Area Farmers Market offers market lite through September & October!
9. Starve Hollow 'Holloween' Spooktacular
Starve Hollow State Recreation Area is offering up its annual Starve Hollow 'Holloween' Spooktacular with activities from 10 a.m. to 11 p.m. October 21 & 22 at the Vallonia Campground. Featured activities include a Horror Haunted House, trick or treat at the campground, Monster Musical Chairs, crafts, and more! Click here for the full schedule.
10. Trunk/Trick or Treat events
There are more than 20 Trunk or Treat events in Jackson County this year, and we don't want you to miss out on them! That's why we've put together a guide so you will have all the dates, times, and locations in one place! Click here for the guide! If you have a submission for the list, email Jordan Richart at jordan@jacksoncountyin.com.